Quality Speedlift: Gearless Boatlift
The Speedlift was developed to solve three major problems with boat lifts.
It's fast lifting speed is about three times faster than most boat lifts.
It's beamless. There are no beams to duck when boarding your vessel, or to obstruct your view.
It's generally maintenance-free. Sealed ball bearings, fully enclosed roller chain
and drive system, along with permanently lubricated pulleys alleviate the need for routine maintenance.
There are other features as well:
Cable wound on large grooved winders dramatically increase cable life.
Aluminum construction resists corrosion.
Less costly installation with fewer pilings required and lower power requirements.
Options:
Remote Control
Stop attachment to program pre-determined up-and-down positions
Solar power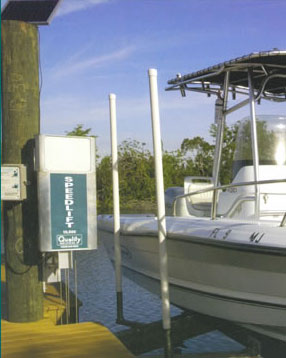 THREE PILING SERIES
Speed lift three-piling models operate from a single power head containing one motor. They require so little power that we use the words "plug and play" to describe their electrical attributes. In other words, they can be plugged directly into a household electrical outlet.
This series is exceptionally competitive in price. Not only is the lift priced lower than other aluminum and cheaply manufactured galvanized boat lifts, but it is less costly to install. Electrical requirements are less expensive and one less piling saves installation costs as well. You save money and still get one of the finest boat lifts on the market today.
Although useable in all installations, the three-piling series may be the only option for homeowners of pie-shaped, canal-end lots that often have small waterfronts. With the drive-head outboard, away from the dock, the lift fits well into triangle mooring spaces.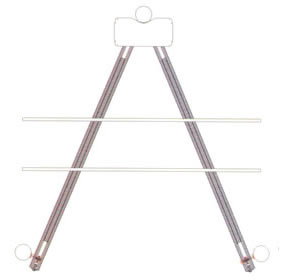 FOUR PILING SERIES
Developed to lift larger boats, these lifts possess many of the attributes of its three-post brother. The 10,000-pound model is perfect for very long, relatively light watercraft such as cigarette boats.
Our 20,000-pound model is the largest beamless lift manufactured. Like all speed lifts, it is efficient and fast.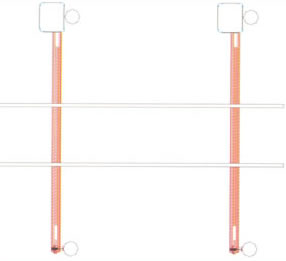 Specifications
Model
Capacity(lbs)
Electrical
Requirements
Motors
Lift
Speed
3 Piling
3,000
110V - 20 amps
(1) 1/3 HP
32" /min
3 Piling
6,000
110V - 20 amps
(1) 1/2 HP
32" /min
3 Piling
10,000
110V - 20 amps
(1) 1 HP
32" /min
4 Piling
10,000
220V - 20 amps
(2) 1/2 HP
32" /min
4 Piling
20,000
220V - 30 amps
(2) 1 HP
32" /min