Remote Controls
Remote controls manufactured by GEM manufacturing. These remote controls are designed for use in a marine environment. Remote controls are available for all electric boat lifts manufactured by Magnum and will also adapt to most boat lifts on the market today. Operational range of the radio is approximately one hundred feet. There are two basic styles of remote controls.
Standard remote: runs up or down as long as the transmitter button is pressed. Release the button to stop the boat lift.
Remote with automatic stops: In the auto mode, press the transmitter's up or down button and the boat lift will start. Release the button and the boat lift will continue to run until either the stop button is pressed or the boat lift reaches the limit stops. In jog mode, the remote will operate the same as the standard model mode.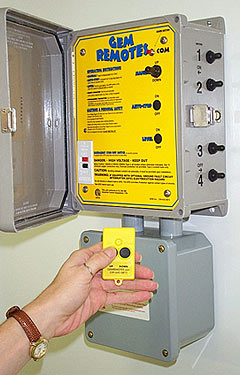 Lifting Ladders
Five-step and seven-step T6061 aluminum lifting ladders. The unique design of the lifting ladder prevents marine growth on the rungs. The functional design of these ladders is enhanced by the satin finish of the hand rails and the craftsmanship displayed in the fit and finish of the slide rails.